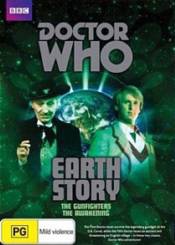 DOCTOR WHO: EARTH STORY [Z4]
Minotaur Code: DV2097
DVD - Blu-ray
$19.95
Out of stock. Will ship when stock arrives
This collection includes The Gunfighters starring William Hartnell as the First Doctor, and The Awakening starring Peter Davison as the Fifth Doctor.

In The Gunfighters, the Doctor and his companions travel to Tombstone, Arizona, 1881 where they must survive the legendary gunfight at the O.K. Corral. In the Wild West, tempers are short, guns are swift, and a moments
hesitation can mean death.
In The Awakening The Doctor, Tegan and Turlough arrive in a small English village, where locals are reenacting dangerous Civil War battles. Can the Doctor stop the games before an evil entity hidden in the village church awakens?