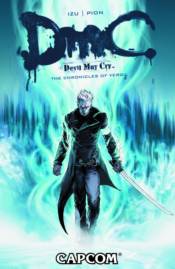 DMC DEVIL MAY CRY CHRONICLES OF VERGIL HC
Minotaur Code: C51958
IZU,
Comic Trade Paperback
$14.99
Out of stock. Will ship when stock arrives
While his twin brother Dante rots in Hellfire, the demon prison, Vergil recruits the reluctant human psychic, Kat, who can potentially guide him through the maze of Limbo! But even with Kat as his female astral guide, can Vergil free his brother and turn the tide against the demons who control all of reality?