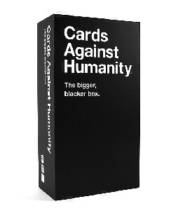 CARDS AGAINST HUMANITY (BIGGER) BIGGER BLACKER BOX
Minotaur Code: ZB0203
Game and Related
$34.95
Out of stock. Will ship when stock arrives
The Bigger Blacker Box is an empty storage case big enough to hold all the Cards Against Humanity ever made, with room for even more.

Does not include the Cards Against Humanity main game. We want to be very clear here, this is mostly a big empty box.

But it does include the following:

50 blank cards. (10 black, 40 white.)
One totally unique,procedurally-generated white card.
20-card Box Expansion.

...There might be other surprises in there. Who knows?