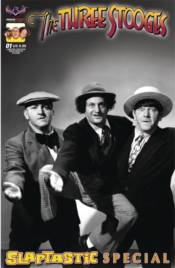 THREE STOOGES SLAPTASTIC SPECIAL #1 LIMITED EDITION B&W PHOT
Check, S.A.
Comic
$14.99
Out of stock. Will ship when stock arrives
Hello, hello, hello…HELLO! Welcome to the rarest level of Three Stooges collecting with an officially eye-poked Black & White Limited Edition Photo Cover! Spread out! This issue is limited to just 350 copies! Don't be a porcupine - send this gem to your friendly comics grading service!