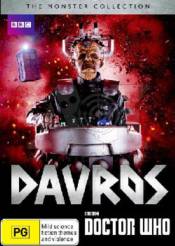 DR WHO: DAVROS (THE MONSTER COLLECTION)
Minotaur Code: DV9019
DVD - Blu-ray
$19.95
Out of stock. Will ship when stock arrives
Take a trip through space and time to meet creatures and enemies that always come back for more...Contains two exciting adventures! Davros is a genius scientist responsible for creating the most dangerous race in the universe--the Daleks. Ruthless and corrupt, he is determined that his creations will always win.

GENESIS OF THE DALEKS: is a six-part adventure from 1975.
The Fourth Doctor, played by Tom Baker, is sent on a Time Lord mission to Skaro to destroy the Daleks. Written by Terry Nation, directed by David Maloney, produced by Philip Hinchcliffe, first shown: 08 March-12 April 1975.

THE STOLEN EARTH and JOURNEY'S END was first shown in 2008 and saw the return of Davros to Doctor Who. The Tenth Doctor, played by David Tennant, needs help from old friends to defeat his old enemy.