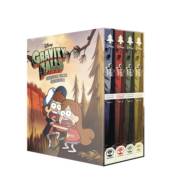 GRAVITY FALLS CINESTORY BOXED SET
Minotaur Code: C60496
DISNEY,
Comic Trade Paperback
$69.95
Out of stock. Will ship when stock arrives
Step right up to the Mystery Shack and behold our greatest attraction-a boxed set collection of all four best-selling volumes of the Disney Gravity Falls Cinestory Comic series.For their summer vacation, Californian twelve-year-old twins Dipper and Mabel Pines are dropped off in the town of Gravity Falls, Oregon, to stay with their great-uncle, Grunkle Stan. Things are not what they seem in this small town, and with the help of a mysterious journal that Dipper finds in the forest, they realize that their everyday life has changed.Trust the silliness and delve into the mystery of the Falls in over 900 pages of unusually unusual comics featuring selected images and final scripts from the hit show Disney Gravity Falls.