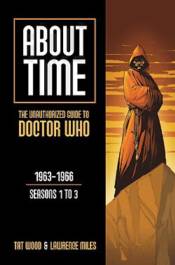 DOCTOR WHO: ABOUT TIME SEASONS 1-3 TPB
Minotaur Code: D0759
Book
$39.99
Out of stock. Will ship when stock arrives
About Time serves as the definitive (albeit unofficial) guide to the classic Doctor Who Seasons 1 to 3 - the show's very beginnings, starring William Hartnell in the lead role.

Written by Tat Wood (SFX, TV Zone) and Lawrence Miles (Faction Paradox), About Time not only examines the usual continuity concerns in bursting detail, but looks at how the political / social issues of the 1960s affected the show's production.

Written by Tat Wood and Lawrence Miles.