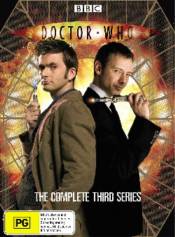 DOCTOR WHO COMPLETE SERIES 3 DVD [R4]
Minotaur Code: DV1270
DVD - Blu-ray
$49.95
In stock
Each year we have come to expect an amazing box set from the Doctor, and this year is no exception.

Containing the entire series 3 of what has become the must-watch show of the year, this is a collection not to be missed.
Packed full of special features including outtakes, deleted scenes, commentaries, video diaries and 13 x 12 minute Dr Who Confidential (behind the scenes of filming each episode). Travel through time and space with the Doctor…you will never look back.