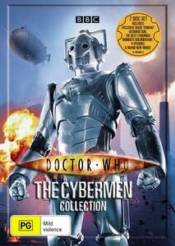 DOCTOR WHO: CYBERMEN COLLECTION (METAL CASE) DVD
Minotaur Code: DV0605
DVD - Blu-ray
$29.95
In stock
Stars David Tennant and Billie Piper.

Revisit the Cybermen's return in this SteelBook collection featuring 4 thrilling episodes from Series 2, as the Doctor and companions battle against the evil silver giants.

RISE OF THE CYBERMEN: On a parallel Earth, a deadly new version of the Doctor's old enemy is about to be reborn.

ARMY OF GHOSTS: The Doctor and Rose are drawn to the Torchwood Tower, but a mighty invasion force is ready to march.

THE AGE OF STEEL: The Cybermen take control of London and start converting the population while the Doctor, Rose & Mickey become fugitives.

DOOMSDAY: As 2 mighty armies clash, the Doctor realises that saving the Earth might mean the death of Rose.